ChatGPT: The Rise of Interactive AI and What It Means for Faithe Emerich - Digital Marketing Consultant
Mar 4, 2023
Blog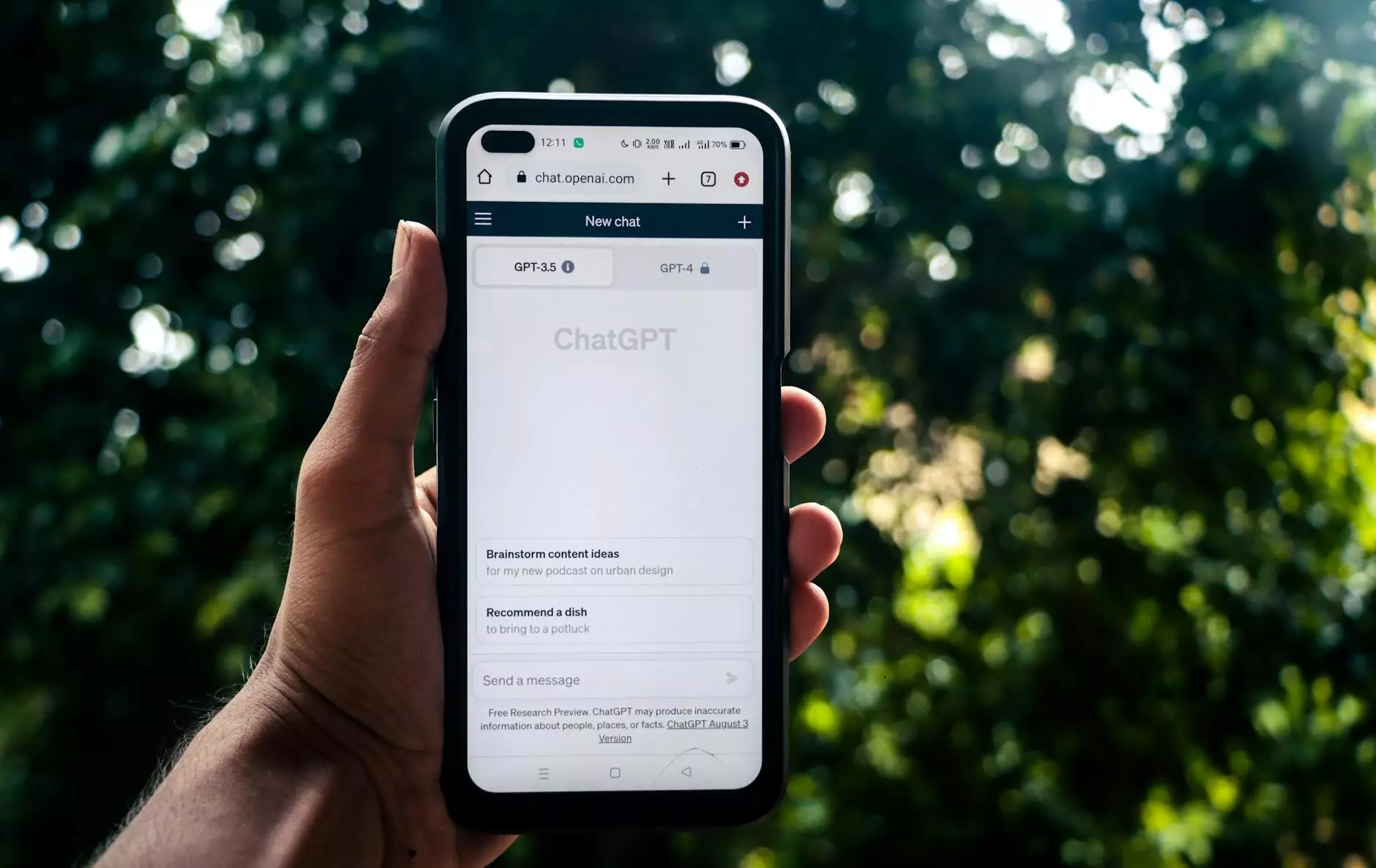 Introduction
Welcome to the digital age where cutting-edge technologies are rapidly transforming the way businesses operate and interact with their customers. One such revolutionary technology is ChatGPT, which has quickly gained prominence due to its exceptional capabilities in mimicking human-like conversation and providing interactive AI experiences. In this article, we will explore the rise of ChatGPT and delve into what it means for your business and how Faithe Emerich, a leading digital marketing consultant, can assist you in harnessing the power of this technology.
The Power of ChatGPT
ChatGPT, built upon the state-of-the-art GPT-3 language model, represents a significant leap forward in the field of artificial intelligence. It has the ability to understand and generate human-like text based on the context provided. This means that ChatGPT can engage in conversations, provide answers to queries, offer suggestions, and even simulate different personalities.
Enhanced Communication
With ChatGPT, businesses can elevate their communication strategies to new heights. Whether it be engaging with customers, responding to inquiries, or delivering personalized support, ChatGPT's natural language processing capabilities enable seamless and interactive conversations. This level of sophistication results in increased customer satisfaction, improved brand reputation, and ultimately, higher conversion rates.
Industry-Specific Applications
ChatGPT can be tailored to cater specifically to the needs of various industries. For example, in the e-commerce sector, ChatGPT can power virtual shopping assistants, guiding customers through their buying journey and providing real-time recommendations based on their preferences. In the healthcare sector, ChatGPT can assist healthcare providers by offering symptom analysis, appointment scheduling, and general medical advice.
The Importance for Businesses
In today's highly competitive business landscape, staying ahead of the curve is crucial for sustainable growth and success. Integrating ChatGPT into your business strategy can provide you with a competitive edge by transforming the way you engage with customers and streamline your operations. By leveraging the power of interactive AI, you can enhance customer experiences, increase operational efficiency, and drive revenue growth.
Personalized Customer Engagement
One of the most significant advantages of ChatGPT is its ability to deliver personalized customer engagement at scale. By deploying AI-powered chatbots or virtual assistants, businesses can provide tailored recommendations, offer relevant information, and address specific customer concerns in real-time. This level of personalization not only fosters stronger customer relationships but also leads to improved customer loyalty and repeat business.
24/7 Support and Availability
Unlike traditional customer support channels that operate within specific time frames, ChatGPT offers round-the-clock availability. With ChatGPT-powered chatbots, businesses can provide instant support and address customer queries at any time of the day or night, ensuring a seamless customer experience. This level of availability strengthens customer trust and satisfaction, further solidifying your brand's reputation.
Efficiency and Scalability
By automating repetitive tasks and handling customer inquiries, ChatGPT frees up valuable human resources, allowing businesses to refocus their efforts on more strategic initiatives. ChatGPT's scalability also ensures that your business can handle an increasing volume of customer interactions without compromising quality or response time. This leads to improved operational efficiency, reduced costs, and greater overall productivity.
Faithe Emerich - Your Digital Marketing Consultant
When it comes to leveraging the power of ChatGPT and integrating it seamlessly into your digital marketing strategy, Faithe Emerich is your trusted partner. With years of experience as a digital marketing consultant, Faithe has a deep understanding of the latest AI technologies and their business applications. Faithe specializes in helping businesses unlock the full potential of ChatGPT and drive impactful marketing campaigns.
Customized ChatGPT Solutions
Faithe Emerich takes a tailored approach to every client, recognizing that each business has unique goals and requirements. Faithe will work closely with you to understand your specific needs and develop customized ChatGPT solutions that align with your brand's voice and values. By creating conversational AI experiences that resonate with your target audience, Faithe ensures that your business stands out from the competition.
Strategic Implementation and Optimization
Implementation and optimization are key to maximizing the benefits of ChatGPT. Faithe Emerich possesses the expertise to seamlessly integrate ChatGPT into your existing digital marketing channels, such as websites, social media platforms, and chat interfaces. Through careful monitoring and analysis, Faithe fine-tunes your ChatGPT solutions, continuously improving their performance and ensuring they align with your evolving business needs.
Ongoing Support and Training
The digital marketing landscape is ever-changing, and Faithe Emerich understands the importance of continuous learning and adaptation. Faithe provides ongoing support and training to ensure that your team is equipped with the knowledge and skills required to effectively utilize ChatGPT. With Faithe by your side, you can stay at the forefront of AI-powered marketing and remain ahead of the competition.
Conclusion
The rise of interactive AI, exemplified by ChatGPT, ushers in a new era of customer engagement and business optimization. As businesses across various industries strive to deliver exceptional customer experiences and maintain a competitive edge, ChatGPT presents an unprecedented opportunity to revolutionize communication and drive growth. Faithe Emerich, a leading digital marketing consultant, stands ready to guide you on this transformative journey, ensuring your business is well-equipped to leverage the power of ChatGPT and achieve remarkable results. Embrace the power of interactive AI - unlock new possibilities for your business today!